high rope course design
Challenge Course Consultancy design and construct top quality high rope courses, playground courses and provide other rope services. We have been designing and installing quality equipment for the outdoor industry, such as high rope courses, for the best part of the last decade.
We take pride in creating solutions that meet your needs, be you a school, camp, health organisation business or other outdoor program.
There are many benefits to be had from having a high rope course installed by a professional, experienced company. And there are few firms in this field as professional and experienced as Challenge Course Consultancy.
Boasting exciting features such as zip wire and climbing ropes, our high rope courses provide excellent value for money. With each solution finely tailored to each customer, the fun, health benefits and financial benefits to had from a CCC high rope course are impressive.
Please call us now on 01573 440 296 or email bill.cook@challenge-course.co.uk
Why choose us?
Challenge Course Consultancy committed to providing a high quality and economical service to the industry and have over the last few years been involved in setting up the Advisory Association for Ropes Course and Initiatives.
We specialise in the design and construction of quality high rope courses for a whole variety of uses.
The organisation is recognised and indeed consulted by both the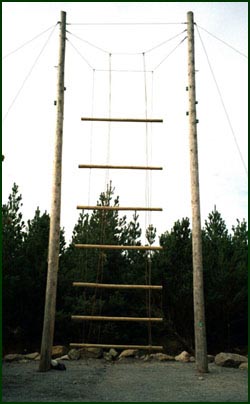 A.A.L.A. and the H.S.E. Together we are working towards standards that are recognised throughout the world as the highest available, but practical enough to allow for innovation.
As well as the construction of challenge courses, we also offer services in the creation of zip wire, climbing rope and safety rope.
No job is too big or two small. Whether your require a full scale high rope course, or just a small garden playground rope area for your childen, we would be delighted to oblige.
Highest Quality
Challenge Course Consultancy only ever use the highest quality materials to construct our courses. This is to ensure that your solution remains a quality piece of equipment for years to come.
Our experienced and skilled staff are of the best around when it comes to our course construction service and we utilise all of our knowledge and professionalism to create courses and play areas of the highest standard.
Challenge courses require the best creative designs in order to keep the activities fresh and exciting for participants.
With around a decade of experience in designing challenge courses, we possess the experience to custom design and develop activities and climbing structures that are attractive and innovative.
Using the latest in technology, we can design a course that is functional as well as provide an exciting visual environment for your program.

High Rope Course | Challenge Course | What We Do | Who We Are | Get In touch | Links | Site Map