What We Do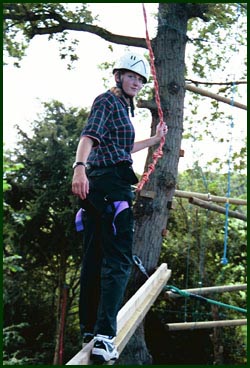 CCC selects and uses materials and techniques that it believes are the most appropriate to the purpose, based on quality, appearance and price.
Where required, or where we consider it prudent, we will only use components that are individually certificated as meeting the required BS, DIN, or UIAA standard.
Many components are stamped with their safe working load, SWL, or working load limit, WLL.
This can at times cause confusion, UIAA insist that a climbing sling is labelled with its fail load, typically 2.5t. whilst BS insist that slings are labelled with their SWL. A commercial sling labelled 2.5t would in fact fail under a load of 17.5t. Confused? That's why I am here.

Many of our components and materials are quite innovative. We have designed and have manufactured through a sub-contractor a galvanised bracket for attaching ropes to trees.
Approved by arboriculturalists and simple to fit the bracket offers a neat attachment which has a theoretical fail load of over 6 t. We have tested it to 5t quite satisfactorily.
Under its designed usage we would not expect them to carry a load higher than .5t. These brackets are sold to a number of other ropes course manufacturers.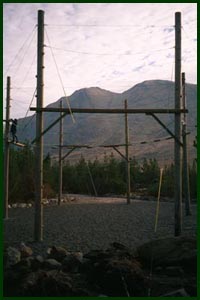 Our main load bearing ropes are quite unique. Where others use either 10mm wire or polypropylene we use polyethylene, our manufacturer cannot tell us how long it will last - they have only been making it for 40 years. Polyethylene is what your car seat belt is made from.
We use rope of 28mm diameter with four strands rather than three because it is kind on hands and feet. Not content with this we insert a 6mm flexible wire through the middle, this is not to increase the strength but to limit stretch in the system, reducing the amount of re-tensioning which is required after installation.

Any timber that we use is treated to prevent damage from rot or insect infestation. Depending on the application the guarantee on this may be as high as 40 yrs.
Where painting is required this is applied over an approved treatment. We use a Scandinavian product that allows the timber to breathe and is non-toxic to fauna and flora.
The ground beneath a ropes course needs a friendly surface, this is not only to protect clients in the event of a fall. The correct material will help to keep the equipment clean and protect the ground from compaction and prevent damage to tree roots.
There is a wide range of products on the market all of which have advantages depending on circumstances. As ever you get what you pay for and if the budget will allow a little more spent at installation will pay off later.
Basically if a course is built on or around trees we would recommend a "forest" product. These are available in a vast range of styles the main cost being transport.
They do require regular forking and redistribution with a rake and of course are degrading from day one. Annual topping up is to be expected and eventually total replacement. In other areas pea-gravel is the best option, readily available at reasonable cost its performance is excellent and it does not rot.

High Rope Course | Challenge Course | What We Do | Who We Are | Get In touch | Links | Site Map