Who WE Are
Bill Cook is a man of many parts, most of which are his own.

On leaving school at 19 he entered the grubby world of fabrication and welding engineering and at 25 was works manager of a factory developing and producing medical equipment, with 27 staff looking up to him asking…"Why him?"

This was the time to move to Scotland and the joys of self-employment. The next 11 years were spent in the innovative design and manufacture of equipment for the agricultural industry including work with helicopter application equipment and the newly conceived concept of low ground pressure vehicles and chemical application. His spare time was involved with mountain rescue, team leader for three years, RNLI, inshore rescue boat crewmember, walking, climbing, open canoeing and generally enjoying the outdoors whilst designing equipment that potentially could damage it.
Time To Move On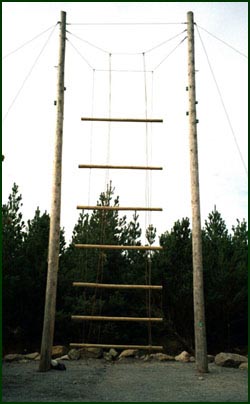 The next 7 years involved working with disadvantaged people, generally in the 16-25 yr old range, but often as young as 10 or as old as 70.
Using the outdoors as the means of communication and recognising the opportunity for the great metaphor in this environment he learnt that the available equipment was usually sadly lacking in the three most critical areas: appearance - client perception, quality - client safety and content - results.

Through a transition period Bill has now been working on the design and installation of quality equipment for the outdoor industry for over 8 years.

Challenge Course Consultancy is a company wholly owned by myself. I am committed to providing a high quality and economical service to the industry and have over the last few years been involved in setting up the Advisory Association for Ropes Course and Initiatives.
The organisation is recognised and indeed consulted by both the A.A.L.A. and the H.S.E. Together we are working towards standards that are recognised throughout the world as the highest available, but practical enough to allow for innovation.
CCC is client led, our negotiations start with looking at your aim, not at what our standard product is. Once we know your aim we can then design equipment to help you to achieve this.
High Rope Course | Challenge Course | What We Do | Who We Are | Get In touch | Links | Site Map